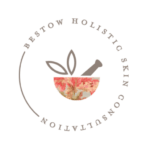 Terms & Conditions
This website is owned and operated by Janine Tait Group Ltd (Bestow, Bestow Holistic Skin Consultation, we, us, our).
By using the Bestow Holistic Skin Consultation (Website), you agree to the following terms and conditions.
The Bestow Holistic Skin Consultation has been developed by the Janine Tait Group Ltd team as a tool to raise general skin health awareness, and is not designed to diagnose or cure health concerns.
Third party websites and products
Occasionally, the Website might contain links to other third party websites. Those links are provided for your convenience and don't mean that we endorse the website. We are not responsible for the content of any third party website linked to our Website.
Disclaimer
The information contained on our Website has been prepared for the purpose of providing information, including about our products, and is not intended to provide medical advice or designed to rectify, treat or cure any specific medical conditions or diseases.
Nothing stated or posted on our Website is intended to be and must not be taken to be, medical advice.
Please seek the advice of professionals, as appropriate, regarding the evaluation of any specific information, opinion, advice or content contained on our Website.
Warranty
We don't warrant or guarantee the accuracy, completeness or suitability of the information and materials contained on this Website for any particular purpose.
Liability
Janine Tait Group Ltd is not liable for any claim, loss, damage or liability arising out of, or relating to, this Website or the information contained on it.
Intellectual property
All material on our Website and all software, design, text and graphics on our Website are owned or licensed by us and protected by law. You must not copy, sell or use any part of our Website or any material contained on our Website without our written consent.
New Zealand Law
The Website and all contracts entered into through it are governed by and interpreted in accordance with New Zealand law.
Amendments
We may change, delete or move any of the material on this Website or these terms and conditions, at any time without notice.
Privacy Policy
Janine Tait Group Ltd is committed to protecting your privacy and handles any personal information provided by you in accordance with the Privacy Act 2020. The privacy policy below lets you know about our online information practices and how we treat the information we receive from you.
Information We Collect
We only collect personal information that you provide us directly, e.g. when you sign up this platform. The information we collect may include your name, email address, phone number, billing address, shipping address, credit card details and other personal information. You don't have to provide us with your personal information, but if don't then you might not be able to use all the features of this Website or remain up to date with Bestow Holistic Skin Consultation developments.
Cookies
We use cookies, and similar technology, on our website to collect information about your browser and your activities on our Website as well as information about your device. Cookies are files placed on your device which we use to analyse how people use our websites and help us improve our website, including by using analytical tools. You can change your settings so your device does not accept cookies. If you do that you may not be able to use all the functionality on our website. 
What we use your information for
We may use the information we collect from you to:
  Send you our newsletter
  Personalise your customer experience
  Respond to you
  Improve the Website
  Send you Janine Tait Group Ltd emails. There is an unsubscribe link at the bottom of each Janine Tait Group Ltd email if at any time you want to unsubscribe from receiving them.
  To comply with any applicable laws and/or regulations.
How we might disclose your information
We may share your personal information with third parties who assist us in operating Website. We may also disclose your personal information to comply with the law or to protect the property or safety of Janine Tait Group Ltd or others.
Storage and Retention
Janine Tait Group Ltd is dedicated to keeping personal information secure. We will take all reasonable steps to ensure that the personal information provided by you is protected from misuse and loss, and from unauthorised access, modification, or disclosure. Once your personal information is no longer needed for the purpose it was collected, we will take all reasonable steps to delete or destroy it. 
How to Correct your Information
You can access, correct and/or update your personal information held by Janine Tait Group Ltd at any time by contacting us on 0800 455 224 or at info@janinetait.co.nz.
Changes to Privacy Policy 
Janine Tait Group Ltd reserves the right to change this Privacy Policy at any time without prior notice.
In the event that any changes are made, the revised policy shall be posted on this Website immediately. Please check the latest information posted here to inform yourself of any changes.
If you do not accept the contents of this Privacy Policy, please do not provide us with your personal information.
Privacy Policy
You authorise us to collect and use personal and health information provided by you in accordance with this Privacy Policy, the Privacy Act 2020 and Health Information Privacy Code 1994.
During your interaction with Website you will be asked to share health information with us.
You may be asked questions, asked to take a health and lifestyle questionnaire on behalf of your client. This enables us to plan and carry out safe and appropriate support for your client's needs.
You must first obtain your clients consent to share their information with us and you undertake that you have an appropriate Privacy Policy for any information collected by you.
© Bestow Holistic Skin Consultation, 2021. Except as provided by the Copyright Act, no part of this document may be reproduced in any form without the prior written permission of Janine Tait Group Ltd.